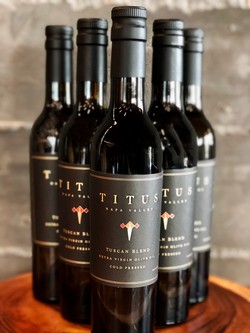 Titus Olive Oil - Tuscan Blend
Cold pressed, unfiltered, estate extra virgin olive oil. This Tuscan style oil is a blend of Leccino, Frantoio, Maurino, Coratina, and Pendalino olives at our Ranch house. Like many of the great Tuscan olive oils, this oil marries a tinge of grassiness with a nice peppery finish. Sorry, there are no discounts on this product.
This is the essential cooking ingredient; great for dipping sauces, as a finishing oil, or in a superb salad dressing - we're all hooked on it! Try it drizzled over a salad of arugula, grilled peaches, prosciutto and goat cheese.