The Winery

In 2014 construction began on what would become the Titus Brothers' biggest project to date:
The Winery at Titus Vineyards.
Ever in the plan, but always in the future, the winery is a representation of the decades of hard work and dedication of the Titus family.
Located on the Titus Ranch Estate, the modern-style building is situated on a small hill overlooking the vineyards, allowing for sweeping southern and western views of the estate and beyond from the 24 foot wide glass wall and masses of windows. A spacious patio sweeps into the Tasting Room, and a gently undulating slatted ceiling continues to the glass tank room doors. Neutral board-form concrete, wooden eaves and dark steel sheet accents add an industrial-but-earthy tonal quality, helping the long low building to blend with the landscape.
Architect: Matt Hollis, MH Architects Press: Wines and Vines, September 2016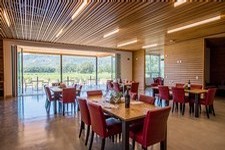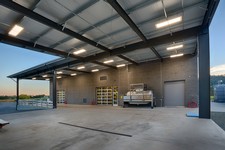 Photography: Technical Imagery and Jason Tinacci Photography