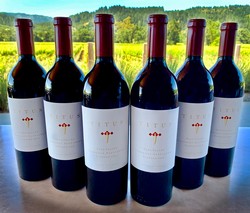 2019 Cabernet Sauvignon 6-Pack
The 2019 Cabernet Sauvignon was harvested in the four-week period from October 3rd - November 2nd of 2019. After picking the fruit was gently destemmed and then pumped to tank. It was fermented on the skins from 14-60 days and then drained at the completion of maceration. After draining it was racked to 60% new French and Hungarian Oak barrels for ageing. It was then racked quarterly for the first year before being racked to tank in May 2021 for bottling.
The Cabernet Sauvignon in the 2019 Cabernet Sauvignon is primarily from the Titus Ranch Estate. This wine shows off the depth of flavor and lushess of tannins that this site produces year after year.
Varieties
Cabernet Sauvignon 81%
Petit Verdot 7.5%
Merlot 7%
Malbec 4.5%