Phillip Titus
The creation of Titus wines is a partnership. It's a partnership between our vineyard and the land, and between the generation of our family that planted the vineyard and the generation that now farms it. Most of all it is a partnership joining the work of two men, brothers Eric and Phillip Titus.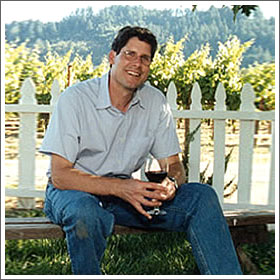 From the age of 12, Phillip worked alongside the family in the vineyards. Phillip's taste for fine wine was developed at the dinner table as Lee shared Bordeaux, California Cabernet Sauvignon and Zinfandel from the cellar. Phillip's studies at UC Davis began in agronomy, progressed to viticulture and ultimately to enology. In 1979, Phillip worked harvest for his future in-laws at Quail Ridge. Through the 1980's he worked at Chappellet and Stratford, Cartlidge and Brown, returning to Chappellet on Pritchard Hill in St. Helena in 1990 to take the position of Winemaker. This new position allowed Phillip to realize the family dream of wine production, and that same year Phillip began making Titus Vineyards Wines.
By blending complementary varietals grown on the family's two estates, and allowing the grapes to fully rripen and mature in their flavor profiles, the resulting wines are distinctive and balanced; fusing the classic varietal characteristics with the vineyard location. Eric and Phillip conduct taste trials until the best flavors and structure are teased out using the various blending lots. The purpose of the blending trials is to ensure that quality, complexity and the expression of the land are in the wines.
If you're looking for Phillip and he's neither in the winery nor the vineyard, you will most likely find him enjoying his favorite pastime of fly fishing, enjoying the company of his wonderful wife Laura (who designed our wine label) and two sons, Ted and Noah.
---