Eric Titus
The creation of Titus wines is a partnership. It's a partnership between our vineyard and the land, and between the generation of our family that planted the vineyard and the generation that now farms it. Most of all it is a partnership joining the work of two men, brothers Eric and Phillip Titus.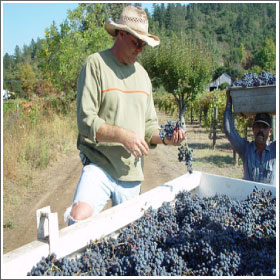 Eric and his brothers started working in the vineyards in the early days of the family grapegrowing endeavor. Eric continued his involvement in the vineyards until entering college, where he chose to pursue studies in marine biology over a curriculum in viticulture and enology. Eric earned his doctorate in biology and embarked on a ten-year career in marine biological research and environmental consulting. After working in such varied locations as Honolulu, Baltimore and San Francisco, and Guam he returned to St. Helena during the heralded 1997 vintage. With the Titus Vineyards wine production steadily increasing and the vineyards in need of redevelopment, Eric came to work full-time for the family wine business. He now divides his time between managing vineyard operations and the overseeing the business side of the winery.
Eric's commitment to winegrowing reaches beyond Titus Vineyards expressing a wider vision that is important to him. He is dedicated to helping preserve agricultural land in Napa Valley as well as contributing to maintaining Napa Valley's reputation as one of the world's premiere winegrowing regions having served as President of the Napa Valley Grape Growers Association and being active in the St. Helena Viticultural Society..
---